BT SPORT CHAMPIONS LEAGUE
A day in the life – BT Sport Champions League
Can you summarise a Champions League day for MOOV at BT Sport?
I am normally one of the first members of the MOOV team that arrive in the building on a Champions League night, mainly due to my own paranoia that everything needs triple checking. One of the first things that I tend to do is walk through all of our operational areas to check that engineers have set up our operators monitoring and talkback. Due to covid-19 we have all needed to adapt, and so the impact on graphic operations is that the operators are no longer in the same gallery or, sometimes, the same building building as the production team, which brings its own challenges. On a typical Champions League night our operators and machines are spread between Stratford (BT Sport Studio), Shepherd's Bush (Gravity Media), Ealing (Timeline) and remotely at their homes. This New Normal has meant that we are working with multiple partners to deliver a full 8 match operation in both HD and UHD, in addition to The Goal Show and AR operations.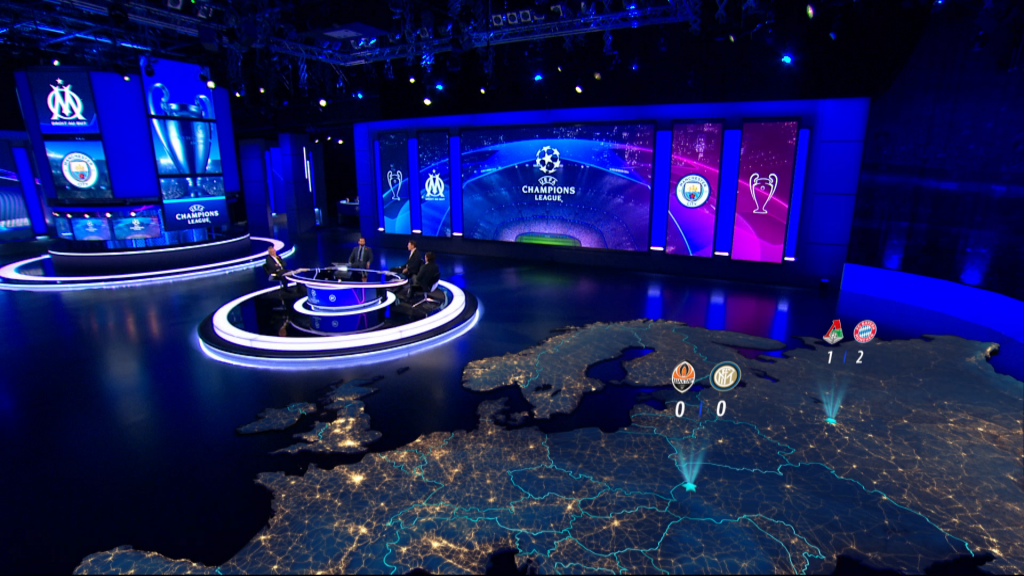 Once all is checked before going on air and the operators are happy with their technical setups and promos, all that is left for them to do is wait to go live and deliver smooth operations. A few hours before kick off, I will also get in touch with our remote operators individually to check if they are happy. I will ensure that I keep checking in with the AR and NCam operators, who service Studio 1 with a wide range of templates that enhance Studio 1's programming.
There is also much to concentrate on over 90 minutes for our operators on the Goal Show. This programme uses two operators that are reacting to all 8 matches live, highlighting key incidences, including goals, penalties and general footballing drama.
As well as our team of graphics operators and graphic designers, we also have a team of software developers, who ensure data is coming through to our servers accurately and can assist with any technical queries if they arise.
We are also required to supply 8 edit suites with graphics throughout the night. We created automatic renders that link with Opta data which trigger renders of key events such as cards, subs and lower third score lines. These graphics are all generated from our in-house software. Editor's also have the ability to create graphics themselves using Gemini, which we built to allow them to render their own templates remotely or in the building. Throughout the night I will typically need to ensure that all edits are provided with all graphics they require for the UCL Highlights Show.
At the end of a long night of football I will usually catch up with the operators before they leave to discuss any issues or concerns, and they also fill out report forms, in order for us to review all operations retrospectively.
The Champions League is an exciting night of football, and it is great to be a part of this dynamic and ever changing production, where our team plays a vital part in producing what is arguably one of the most prestigious European football events on TV.
Mike Sykes, Graphics Project Manager
"MOOV have played an integral role in the production of the Champions League since BT won the rights back in 2015. Their onscreen and Augmented Reality graphics have enhanced the programming no end. Their team service all productions each match day including live studios, edits, and OB's. We are pleased to have their team work with us every match day. "
David Moss, Executive Producer, BT Sport