MOOV serve up a Virtual Studio at Wimbledon
Physical & Virtual Set Design: Toby Kalitowski & Jim Mann
MOOV, who have extended their deal with the BBC Wimbledon for a further four years, are enhancing the overall viewer experience this year – for the BBC's famous coverage of the Wimbledon Tennis Championships.
MOOV has worked with the Wimbledon team for more than seventeen years and as part of the ongoing contract it includes upgrading their virtual facilities.
The new virtual set-up will enhance the immersive and interactive tennis presentation coverage to their audiences across the the world.
Using Mo-Sys StarTracker, this allows for extra flexibility in camera angles and the types of cameras, and even jibs, to be in the studio. In addition, they will be using Brainstorm Infinity Set and Unreal to deliver a truly world class Virtual Studio.
John Murphy, Creative Director, Motion at BBC Sport said " This has been a hugely collaborative project between the BBC and MOOV – we required a studio that would be flexible and adaptable to allow us to create a unique Wimbledon experience for our viewers. We have worked alongside MOOV for several years now, so we had no hesitation in collaborating with them and relied on their expertise and knowledge to deliver a truly immersive and innovative virtual reality studio."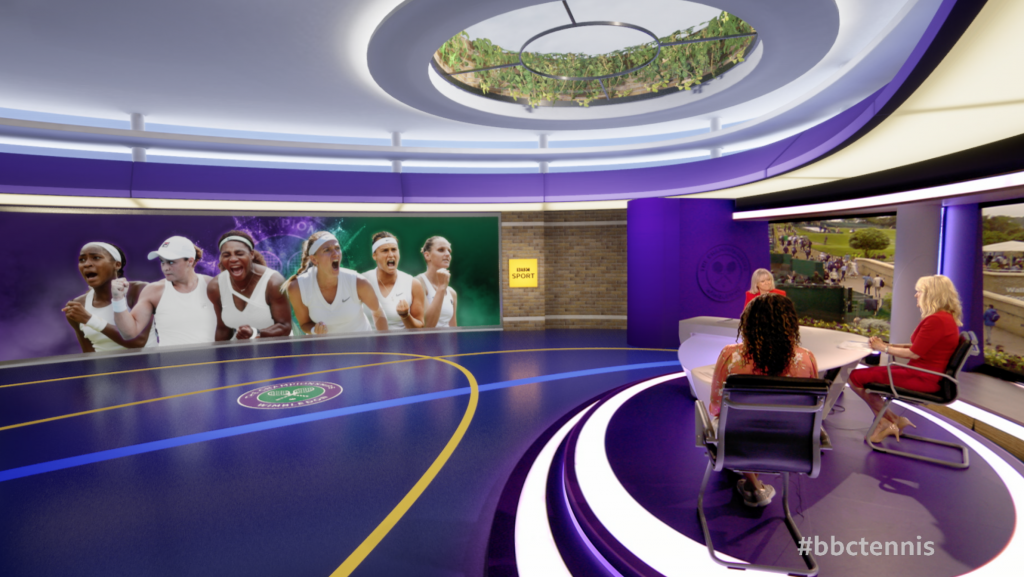 Commenting on the new Wimbledon virtual studio set-up, Nev Appleton, co-founder of MOOV, said: "The new studio basically helps BBC Sport tell the story better. We can show things where previously we'd go to a bit of VT or go to outside the studio; now we can actually bring the outside in a bit more. Visually it's a lot nicer, and we can bring a lot more Wimbledon branding in as well, so we're more flexible [on being able to adjust the set] quickly."
Game advantage
Prior to the pandemic, BBC Sport had been discussing the possibility of this project with Moov and when the events of 2020 began to play out and Wimbledon was cancelled, plans were bought forward to make good use of the time made available.
"For the last year it's been a slow burner in progress with the set designers and everyone else involved at BBC Sport," explains Appleton. "Because of the pandemic we had a bit of time to virtualise the space rather than have AR graphics over camera shots," says Appleton. "We've built a virtual studio which effectively extends the space around the physical desk, so we've got a 360 studio."
However, things had to move quickly prior to this year's tournament. "At the end of April 2021 we were given the design for the model, so we've had a month and a bit to create it all, which is not long to be honest; these projects normally take a lot longer."
Adds Appleton: "We worked with the BBC and our design partners to take their models and integrate them into the Unreal Engine and then we use Brainstorm's InfinitySet system to get it on air, with Mo-sys StarTracker camera system."
The physical and virtual set designers for this project are Toby Kalitowski and Jim Mann, with all studio facilities provided by Arena.
The studio has five cameras: two ped cameras; one jib crane camera; and two PTZ cameras.
Each camera has a render engine attached to it running Unreal in Brainstorm, "and we load the 3D model into that scene," says Appleton. "It sounds very easy, but it's far from easy!," he laughs.
Appleton goes on: "We also have a team of creatives – technical artist and Unreal artists and operators – and we created an interface to control everything. It involves a lot of artistry and a lot of technical set up."
Live input is also used so the executive producer, BBC Sport's Sally Richardson, can chose any court camera, slo mo or VT, and inject it into the scene.
The artists work throughout the day, taking images and scenes and turning them into beautifully created images for the director to use in the final live scenes in the studio shown on camera when she requires.
On the right of the set are the real world desk and presenters, with actual windows looking out over the courts. The rest of the set, including a light-well area, is virtualised to create a sense of space and enable the presentation team to bring in different graphics in a visually entertaining and interesting space.
Challenging match point
There were a few challenges on the build up to the Championships, notes Appleton. "We were keying out everything in the studio that's green – floor, walls, a lighting rig that we masked out virtually – which is quite common place, but the challenges on this particular one is it's not in a permanent studio, it's in Wimbledon, so we had issues around restrictions and how many people are allowed on site.
"The other challenge was we were wanting to key on green but through the windows we've got a lot of green, so we've had to use various methods to tell the cameras to ignore the windows where the green is, so that's been something we've had to overcome.
"Then we've got the studio which is used all day for the fortnight [of the tournament] and it's used in the evenings for the highlights show, so a lot of those camera positions and little set ups, where you'd usually have lots of time to rehearse and go through, are all getting compacted into tight windows, which has been a real challenge for this one."