Tokyo Olympics 2020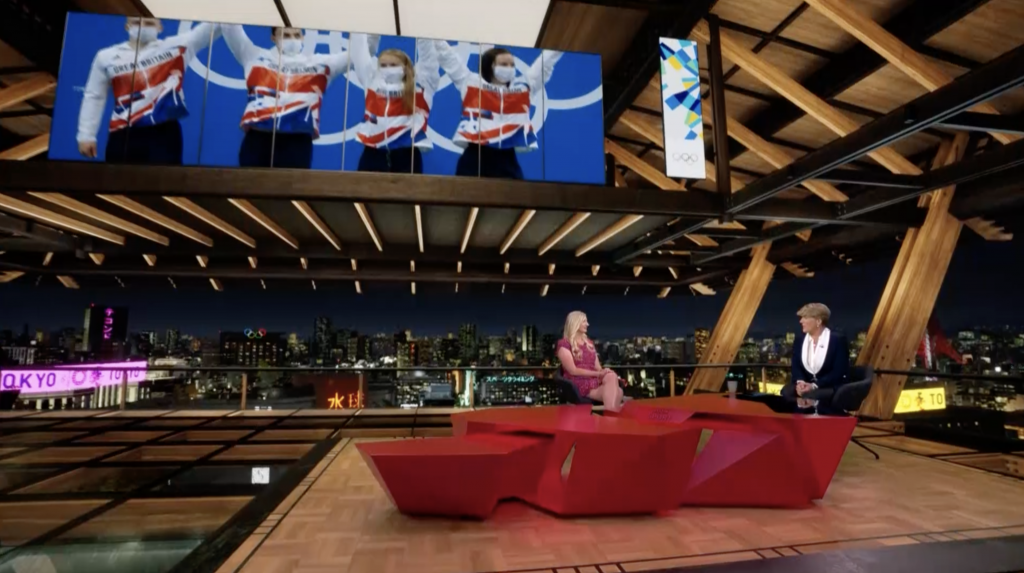 This year MOOV delivered a ground-breaking Virtual Graphics Production for the BBC that raised the 'industry bar' to an Olympic level. This project was a massive team effort and involved years of planning, with the final result being the proudest achievement of our 21 years in broadcast.
From the outset the studio was envisaged as a real building, and this even extended to discussions about health and safety within the virtual scene. This architectural approach was fundamental in designing a believable space with attention paid to the dimensions of handrails, steps and structural joints. The project represents a move away from the theatrical traditions of broadcast set design to a more immersive and environmental approach.
The entire structure was placed on top of a sky scraper in the heart of the city with views across to mount Fuji and the iconic red and white Tokyo Tower. The top of the building formed a traditional Japanese garden with further embellishments such as trees, raked gravel and even koi swimming in a pool reflecting the city lights. This provided the inspiration for the BBC opening title sequence where a camera rises up the side of building past neon signs and reveals the studio building against the Tokyo skyline. Everything in the scene, had to work for both the day, dusk and night setups.
The Virtual Studio solution was powered by Brainstorm's Infinity Set, and complemented by Epic Games' Unreal Engine, all running on the latest Nvidia RTX A6000 graphics, and AJA Corvid 88 video cards. Mo-sys Startracker was used for tracking across all 5 studio cameras with Blackmagic Ultimatte used for keying.
You can read more about the Virtual Studio in our projects section: