Tokyo Olympics 2020
This year MOOV delivered a ground-breaking Virtual Graphics Production for the BBC that raised the 'industry bar' to an Olympic level. This project was a massive team effort and involved years of planning, with the final result being the proudest achievement of our 21 years in broadcast.
Overview
BBC Sport had originally planned to present their coverage of the 2020 Olympic Games from within the IBC in Tokyo, and being 6,000 miles from home, with limited studio space and no windows, they decided that a virtual studio solution would provide more flexibility for a project of this scale and complexity. It would also enable them to augment the environment, whereas in previous Olympics the view from the studio would have been real.
The BBC Sport design brief asked for a 'next level' sport broadcasting presentation space which would allow creative and editorial freedom. The challenge was to take the viewer on a new journey of Olympics presentation. Toby Kalitowski (BK Design Projects) and Jim Mann (Lightwell) proposed an iconic location reflecting the ultra-modern and traditional faces of the host city. BBC Sport's home for the Olympics would be an open sided timber pavilion in the bustling heart of Tokyo providing multiple presentation areas with graphic innovation at its' heart. This considered and believable architectural space, deepened audience engagement through tactile graphic content and brought the spectacle of the Tokyo Olympics to life.
Alongside the concept stage, MOOV were tasked to create the entire graphics and virtual production that would deliver across the 17 days of non-stop coverage.
As the pandemic struck, doubts about the games even happening sent shockwaves across the world, and with less than a year to go, a decision was made by the BBC to redirect the entire presentation back to the UK. One of the benefits of having a virtual studio is that we could produce it from anywhere, which meant that all the planning and effort was not wasted, and the project was still alive.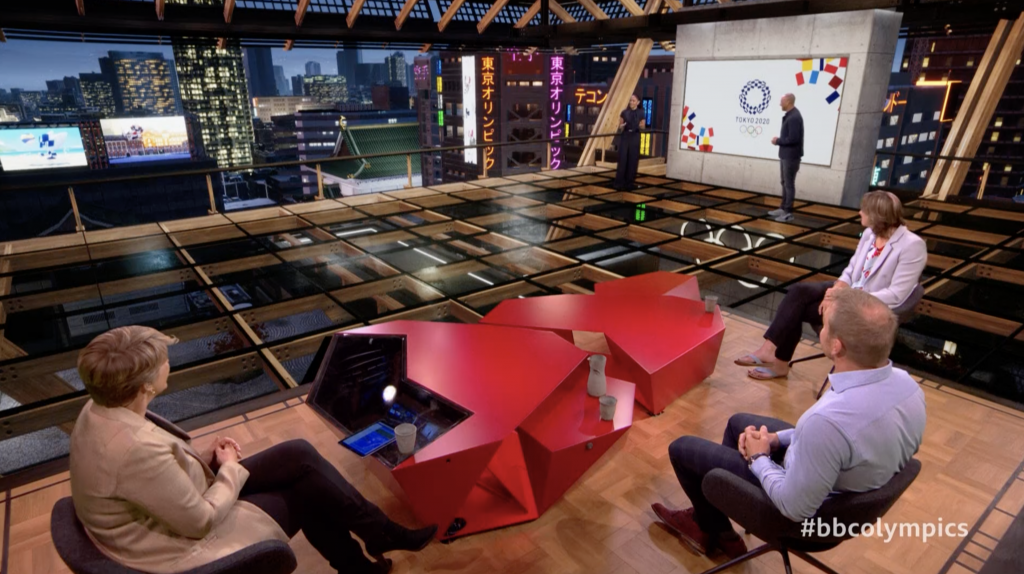 Design Concepts & Graphics
The design approach started with gathering Japanese vernacular and contemporary architectural reference.  The various presentation decks were laid out on different levels from the outset.  The supporting timber structure was built around these with a glass floor to allow dramatic views down through the space and out to the Tokyo skyline.
Japanese houses are traditionally designed using a geometric Tatami mat layout known as 'Ken' and this inspired the floor grid on which the whole virtual structure is based.  Translucent sliding paper screens called Shoji panels were re-imagined as 16:9 grids which could be stacked to create different aspect ratios. Rooted in the architectural grid of the scene, the Shoji panels were originally intended to reconfigure the space by adding perspective and parallax and shimmering rear projected imagery.
Tokyo and particularly Shinjuku district, is famous for its' night-time backdrop of glowing neon signs and billboard adverts.  Early design testing used a combination of 3D texture mapped city blocks and panoramic skyline photography to recreate the cityscape. Giant billboards and neon signs on adjacent skyscrapers show images of athletes, Olympic sports pictograms, mascots and slogans in a cinematic celebration of the city.
From the outset the studio was envisaged as a real building, and this even extended to discussions about health and safety within the virtual scene. This architectural approach was fundamental in designing a believable space with attention paid to the dimensions of handrails, steps and structural joints. The project represents a move away from the theatrical traditions of broadcast set design to a more immersive and environmental approach.
The entire structure was placed on top of a sky scraper in the heart of the city with views across to mount Fuji and the iconic red and white Tokyo Tower. The top of the building formed a traditional Japanese garden with further embellishments such as trees, raked gravel and even koi swimming in a pool reflecting the city lights. This provided the inspiration for the BBC opening title sequence where a camera rises up the side of building past neon signs and reveals the studio building against the Tokyo skyline. Everything in the scene, had to work for both the day, dusk and night setups.
The final design was a multi-layered rooftop virtual studio that would give the 5 production teams a selection of unique spaces to broadcast from, each with optional augmented screens and great views from every angle.
Nev Appleton, Director & Project Lead at MOOV:
"I wasn't quite sure where to start but when I first saw the studio concepts I was blown away, and soon after I wondered if it was actually possible to deliver". Each area had been carefully designed and the attention to detail in the layering was beautiful. Huge wooden beams, glass floors and a rooftop garden were just for starters. We even had an infinity pool with fish swimming beneath the studio which provided the teams with great fun giving them Olympian fish names!"
There are many graphical parts to this project, however the build of the virtual studio was going to be the most challenging.  Not only had MOOV to build the multi-layered virtual studio design in real-time, but also keying, masking, tracking, graphics, and production control were required to create a virtual 360 city to surround the studio. This would hold graphics, Olympic branding, and video imagery, an being a 24/7 live production, the studio, and everything in the scene, had to work for both the day, dusk and night setups.
In addition to the virtual production, the MOOV team created an extensive range of on-screen presentation graphics that would help signpost and enhance the coverage. Augmented studio screens in the studio would also show these live graphics and any specially prepared stings or analysis footage.

Technology
Providing a graphics solution for a major event such as the Olympics is very different to a traditional sports studio presentation.  There are so many unknowns happening around you, so you must be prepared for anything and everything, and to add to that, the Virtual studio cannot fail – there is nowhere to go but green. It was extremely important that we selected proven and best-in-class systems for such a high-profile event, especially as the design was going to push everything to the limit.
The MOOV solution consisted of Chyron PRIME graphics, driven by ORION graphics playout control software. The Virtual Studio solution was powered by Brainstorm's Infinity Set, and complemented by Epic Games' Unreal Engine, all running on the latest Nvidia RTX A6000 graphics, and AJA Corvid 88 video cards. Mo-sys Startracker was used for tracking across all 5 studio cameras with Blackmagic Ultimatte used for keying.
MOOV's in house software ORION was used with IOC data allowing operators to call up medal tables and athlete data in real-time and push them into Chyron PRIME graphics templates, quick and accurately both on-screen and to the virtual screens.
Brainstorm Infinity Set was the centrepiece with Unreal Engine running in the background. This software enabled us to control all the incoming video and tracking feeds, apply garbage and dynamic masks to the scene, and add functionality through a web interface so that operators simply had to click buttons to change the scene or animate a screen.
Mo-sys was used for tracking and lens calibration across all cameras which was then managed through the MOOV network which enabled us to do clever things with masking.
Blackmagic Ultimatte was used for keying with excellent results, mainly down to the fantastic lighting department run by Dave Gibson, who in total, must have had hundreds of lighting states for this project.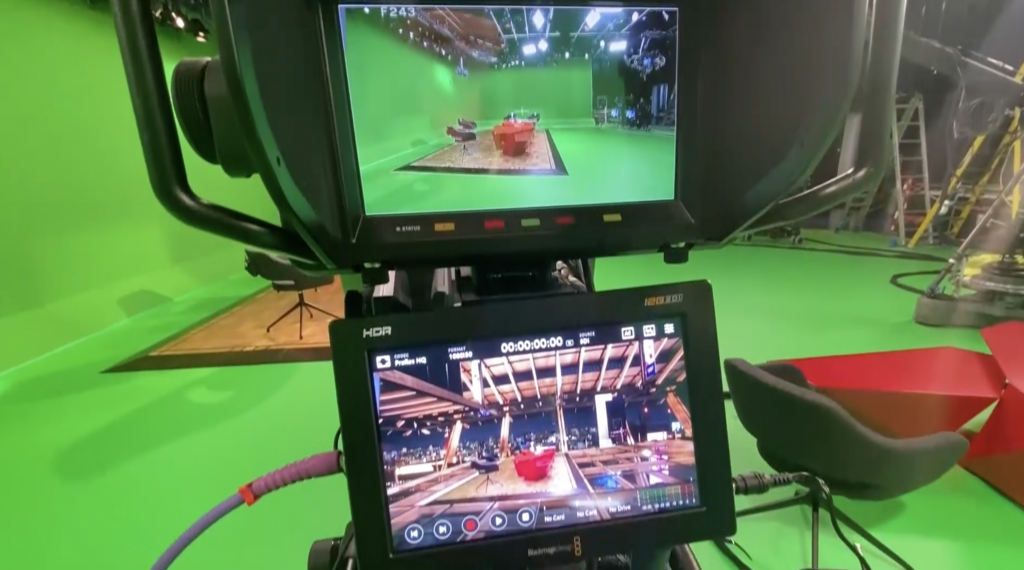 Client Feedback
Sally Richardson, BBC Sport Lead Director, Tokyo 2020
"The AR and VR content was constantly changing and refreshing – the on-screen look never became stale or predictable which is an incredible feat considering we had 300+ hours of programming. Also, important to note that with live multiple sport events the running order can change within seconds and the graphic content (both AR and templated) needs to reflect those changes, rapidly and accurately. The MOOV team achieved this with great aplomb – outstandingly so."
John Murphy, BBC Sport Creative Director
"All of that hard work has paid off with the result on-air and the great feedback from everyone. The biggest compliment I can pay everyone on the project is that we wanted to bring a bit of Tokyo to the UK audience for which Covid made it very difficult, but I believe we achieved it from Salford!"
Jonny Bramley, BBC Sport Executive Producer of Major Events
"The ultimate design was just spectacular – an open-sided pagoda on a Tokyo Skyscraper, utilising the best in Gaming engine technology.  The realism and detail were incredible and were an industry-defining step up in virtual studio production.
The Tokyo 2020 Olympics were a huge success for the BBC and the virtual studio and graphics played a significant part in this."