'The NFL Show' settles into spacious virtual loft space
Article by Michael P. Hill, NewscastStudio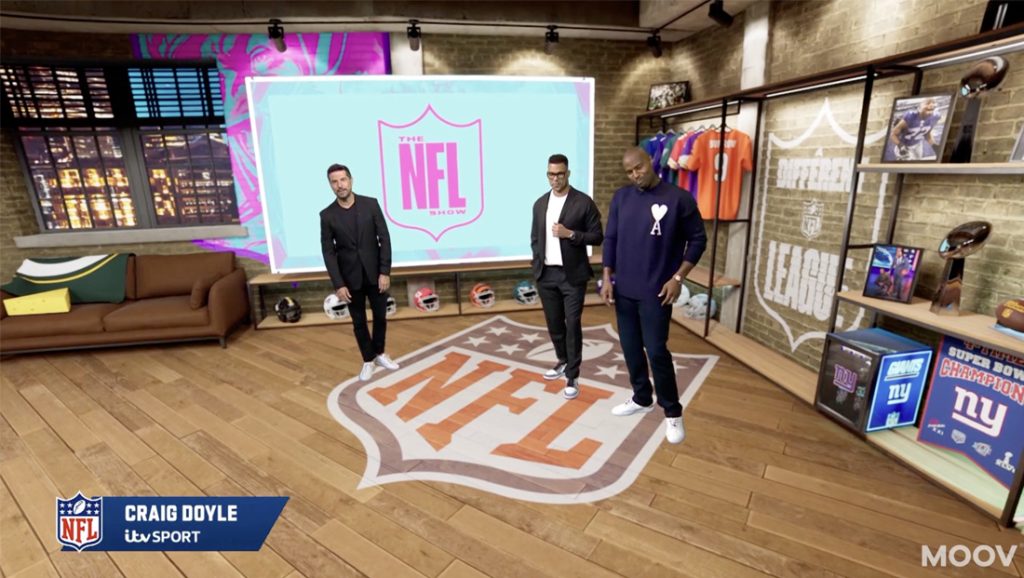 North One Television's "The NFL Show," which airs on ITV in the United Kingdom, has moved into a virtual new home from MOOV.
The show, featuring hosts Craig Doyle, Jason Bell and Osi Umenyiora, originates from a virtual set environment created by MOOV that replicates the feel of a loft-style hangout space packed with football memorabilia.
The 3D environment features walls made largely from exposed brick along with industrial-style windows.
Throughout the virtual space are open shelves, glass display cases and wall-mounted installations of various items, including jerseys, team helmets, trophies, banners and framed photos.
The space features multiple talent configurations, including sitting at a square table with the NFL logo on top or in front of a large virtual video window that has the feel of an oversized monitor — though its scale and ability to appear to float is a nod to the virtual nature of the environment.
Walls can also feature oversized painted branding, that include the show name and other text framed inside of an outline version of the league's shield logo. Another area has a bold pink and teal mural, while the floor features an oversized outline of the shield and full logo.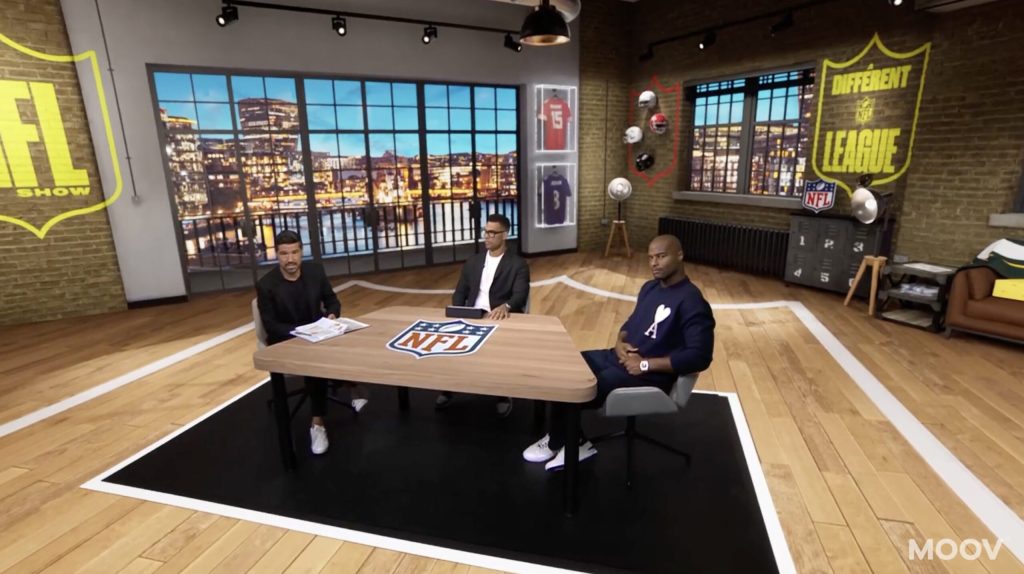 More subtle touches include accents such as what is presumably a Green Bay Packers branded throw on the virtual sofa along with what appears to be one of its famous "cheesehead" hats tossed on the cushion like a throw pillow.
In addition to the 3D environment, Moov also created the show's graphics package, which includes rectangular insert graphics with angled ends. This shape is also used for on-screen score graphics, while more complex layouts such as results and standings appear in simple rectangles with the angular element inside of it and used to frame each team's logo.
Team logos play a key role in many of the animated sequences of the look, as does side-to-side motion and angled reveals and exits.